International Yoga Day 21 June, 2020 (Sunday) : Will it be online?
21st June 2020, the whole world is set to celebrate the Sixth International Yoga Day. This international day for YOGA was declared by UNITED NATIONS GENERAL ASSEMBLY (UNGA) in December 2014.
This year Indian Prime Minister Narendra Modi is all set to celebrate Sixth International Yoga day on the high altitude habitat place "Leh" on 21st of June 2020. The expected total gathering of this event is about 15000 to 20,000 people. He added that IDY 2020 promises to be special and unique, as for the first time a large Yoga ceremony will be conducted in a high-level region such as Leh.
During the COVID-19 Pandemic, it has been observed that people from Hollywood to Haridwar want to know more about Yoga and Ayurveda, people also paying serious attention to yoga while staying at home.Most of the people have never practiced yoga but now they are joining online yoga classes or learning through online videos.
The Ayush Ministry has announced the International Video Blog Competition titled 'My Life, My Yoga' which is open to people from around the globe. To participate, people would need to make a 3-minute video and upload it. In that video, you have to perform yoga or asanas which you usually do in your daily life and also tell people how yoga has changed your life. It is the best way to get involved in International Yoga Day.
In the United Nation, the Sixth annual International Day of Yoga is celebrated on Thursday, 20 June 2020, followed by a panel discussion on the 21st of June. In the year 2019, the UN has decided to raise awareness on "Yoga for Climate Action" through practicing yoga which can provide a solution to climate change, as it creates a harmony between ourselves and nature.
*Theme for 2020 Yoga Day is not yet declared by the UN or Ministry of Ayush, India.
There were two themes for World Yoga Day 2019, the United Nation declared the theme "Yoga for Climate Action" and the Ministry of Ayush, India declared the theme "Yoga for Heart" for Yoga Day.
Benefits of Yoga for Healthy Heart:
Yoga Asanas(Pose), breathing techniques and meditation affects the heart through the respiratory system of the body which therefore lowers our blood pressure, increases capacity of lungs, lower down cholesterol level and boost blood circulation which in turn improves heart rate.
As said by honorable Prime Minister of India Shri Narendra Modi – "Yoga is an invaluable gift of India's ancient tradition. It embodies the unity of mind and body; thought and action; restraint and fulfillment; harmony between man and nature; a holistic approach to health and well-being. It is not about exercise but to discover the sense of oneness with yourself, the world and nature. By changing our lifestyle and creating consciousness, it can help in well being. Let us work towards adopting an International Yoga Day."
What is the meaning of YOGA?
YOGA is a physical, mental, or spiritual practice that is originated from India which describes the complete way of life. YOGA is not all about exercise but to discover the sense and identify yourself. The word YOGA has been derived from Sanskrit which means join or unite or else union of the body.
Indian Yoga Guru "Baba Ramdev " played an important role in spreading awareness about YOGA and taking it across the world.
Do you know who proposed the idea of YOGA day?
The idea of international YOGA Day was proposed by the Prime Minister of India Mr. Narendra Modi during the speech at UNGA. As 21st June is the longest day of the year in the Northern Hemisphere and shares special significance in different parts of the world, PM NARENDRA MODI suggested 21st June as International YOGA DAY. The logo of YOGA day shows harmony and peace for Humanity which shows the nature of YOGA.
YOGA day is a worldwide event and it is celebrated through all the countries by practicing YOGA, meditation, debate and organizing a variety of cultural performance which spread the message and meaning of YOGA DAY.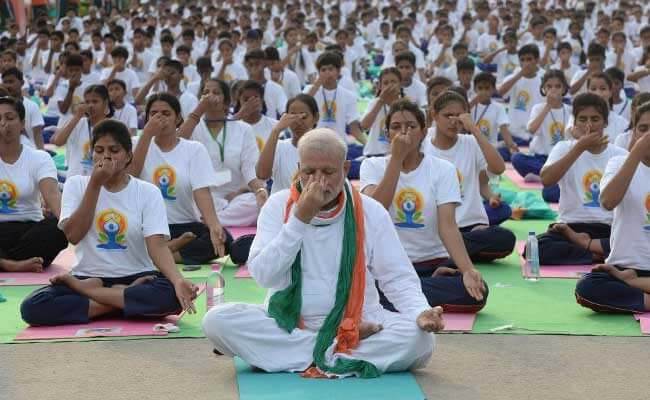 Every day start your day with Suryanamaskaras and if you want a healthy and happy life then take out some time from your busy schedule to do some breathing exercises and do YOGA for few minutes daily.
Let's talk about the benefits of YOGA-
–By doing YOGA daily we can enhance body, focus and can increase your memory and productivity.
–YOGA can relieve your muscle pain and helps to improve your overall health.
–It helps to strengthen your body and stabilize your spine which can relieve your back pain, stress, and tension.
—It stabilizes your mind body and soul and fulfills it by peace and joy.
On the Occasion of International Yoga Day the Secretary, Ministry of AYUSH " Vaidya Rajesh Kotecha" announced two mobile applications for Yoga Day that is " Yoga Locator" and "Bhuvan App". These two apps are related to International Yoga Day 2019.
So, let's start practicing YOGA and make it part of our daily routine.
Subscribe To Our Newsletter
Join our mailing list to receive the latest news and updates from our team.