OnePlus Nord's First Update. See What's new?
OnePlus Nord get its first update. Its  
OxygenOS 10.5.1. Let's find out what is new in it?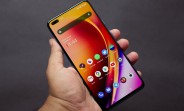 Credit: GSMarena.com
What's new in OxygenOS 10.5.1?
OxygenOS is customized version of Android Operating system. It is customized by OnePlus for its Smartphones.
Optimized Video Calling Perfomance for this COVID-19 Pandemic.
Optimized its Depth Sensor effect.
and Indoor Image Quality
Better power efficiany for shooting 4K at 60frames per second.
Boosted system stability
What is the size of the update?
It is approx 103MegaBytes for downloading over the air, which is not too huge.
Subscribe To Our Newsletter
Join our mailing list to receive the latest news and updates from our team.